Just about 12 hours and were saying "Bye bye Cebu!" We could not waste time on going out of our itinerary, though our only main activity for the last day was set for an all day beach bumming. We choose to visit one of Mactan Beaches than going to Bantayan Island, Oslob and other known beaches in the province for two reasons. First, going Northern or Southern Cebu would entails us at least 4 – 6 hours of travel time – not a good idea for a day tour compared to staying around Mactan Island. Secondly, Mactan Beaches may not be as good as those in the Northern or Southern but choosing a good beach front resort should suffice your need for an all day under the sun activities.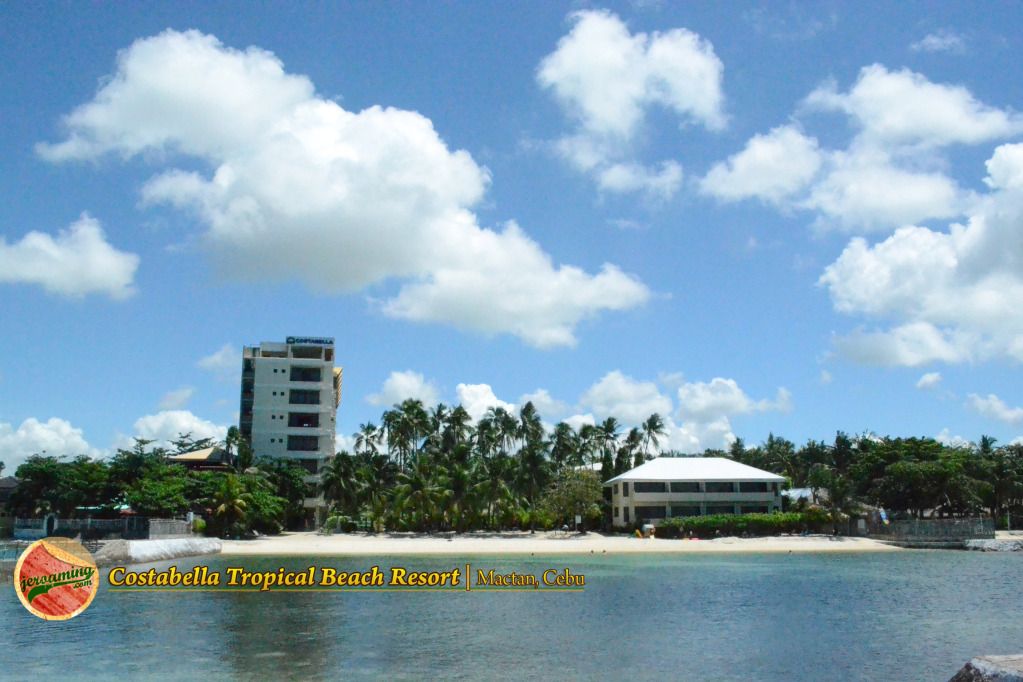 About an hour taxi ride from Cebu City to Mactan Island cost us about Php200 to reach Costabella Tropical Beach Resort/Hotel. The place is secluded away from the city for a serene & peaceful beach get away. We had to pass two large gates with security guards checking our reservations.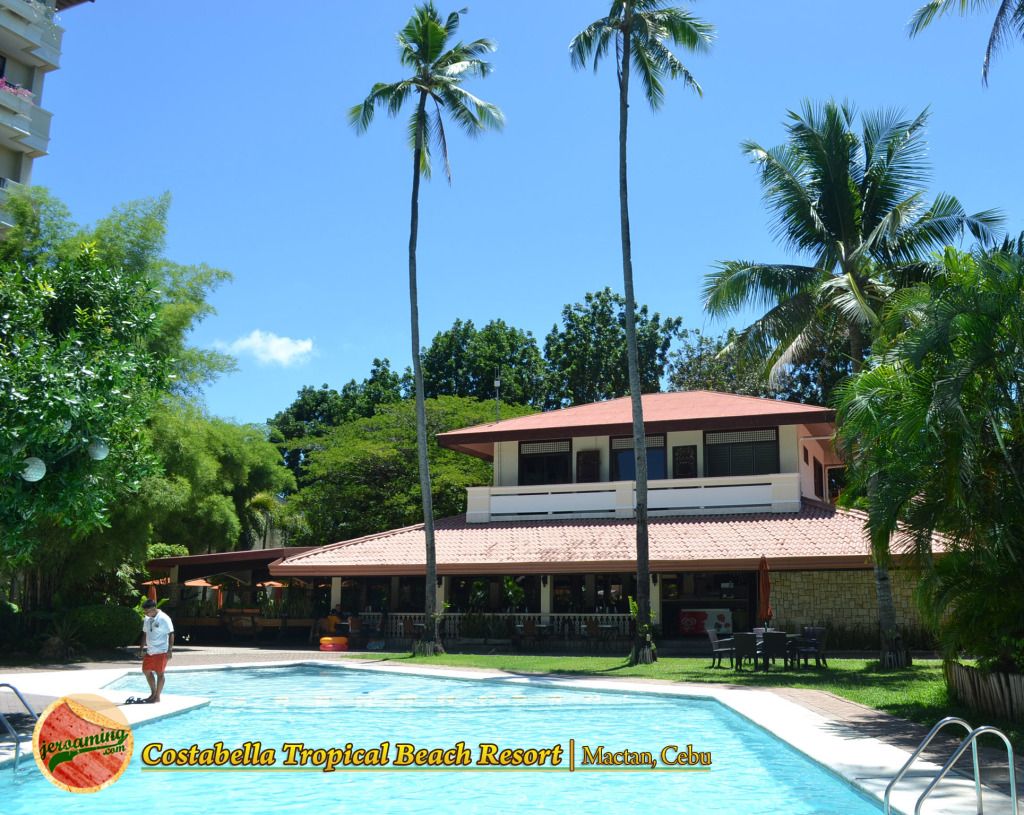 Upon reaching the front desk we were assisted directly to the restaurant for the entrance fee. The fee cost about Php800 per person for a day trip with a set meal. We were given a menu in advance for the meal but I could not wait to dip into the waters so I ran to the beach side and was amazed with the picturesque scenery.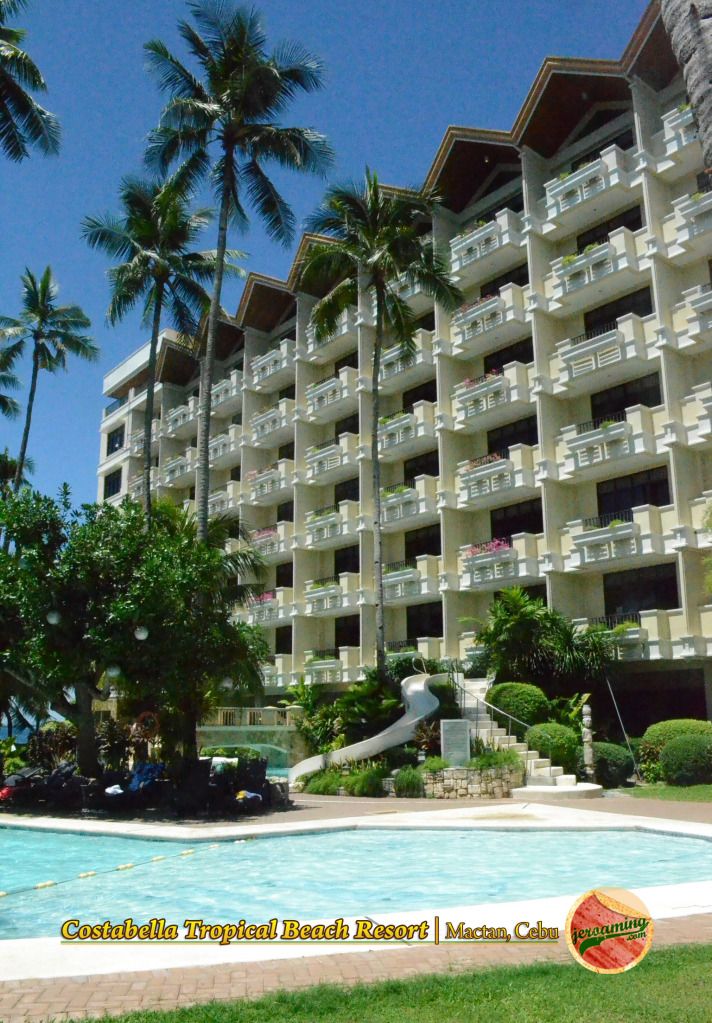 Costabella Tropical Beach Resort/Hotel's is a pleasant surprise. They own two well kept swimming pools with life guards around; have a wider coastline compared to neighbouring resorts, amazing architectural building, good outdoor landscaping, friendly staffs, relaxing ambience, and secure location. What else can you ask for?
The sandbar on the map however is shorter compared to actual. It's a good vantage point though, to see the entire resort from the sea and a perfect spot for photo ops. There are also plenty of sun loungers around to rest and experience the ocean breeze.
Even though the sand may not be as white and as fine as the one in Boracay, it somehow completes my Cebu Beach Bumming Experience. Its clean and grainy sand is perfect for beach volleyball and Frisbee.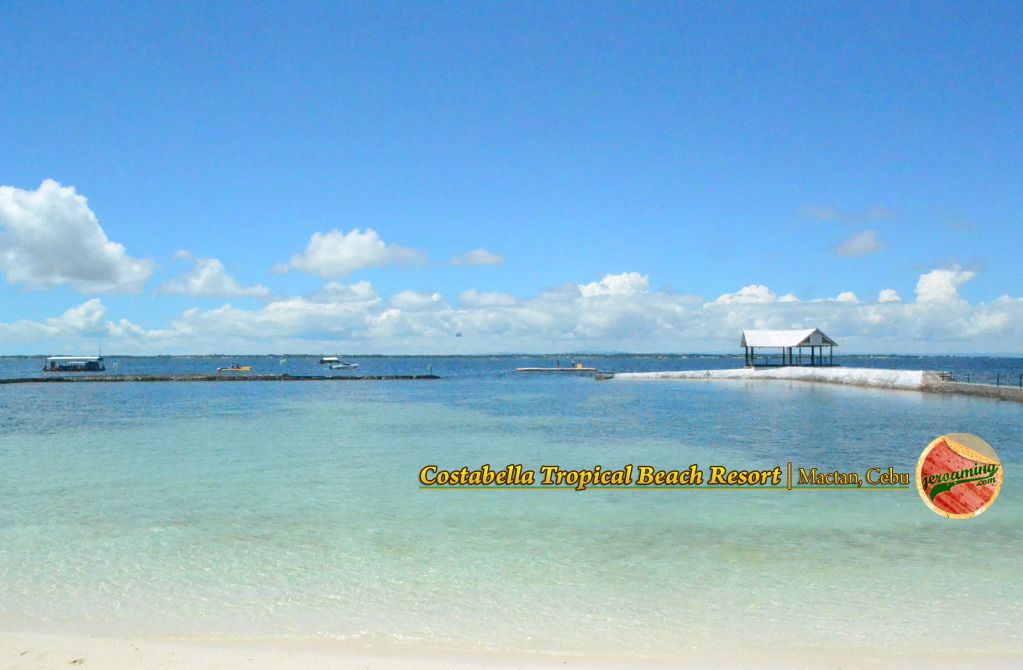 As for the meal, sorry Costabella but I found your meal nothing special. It's decent & eye-catching but it lacks taste and was too bland for a faction of Php800. However, the Turon with Vanilla Ice Cream is amazing.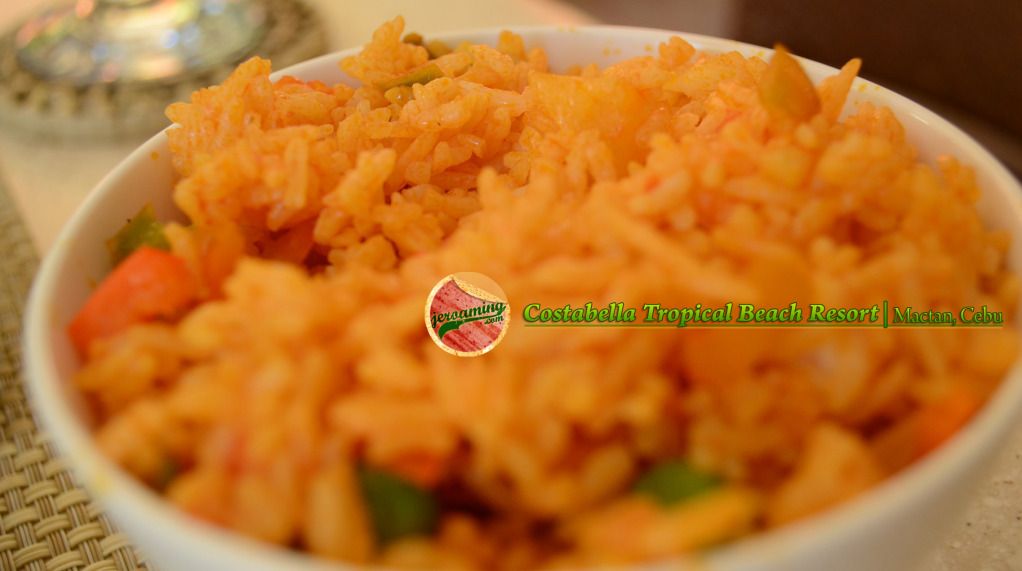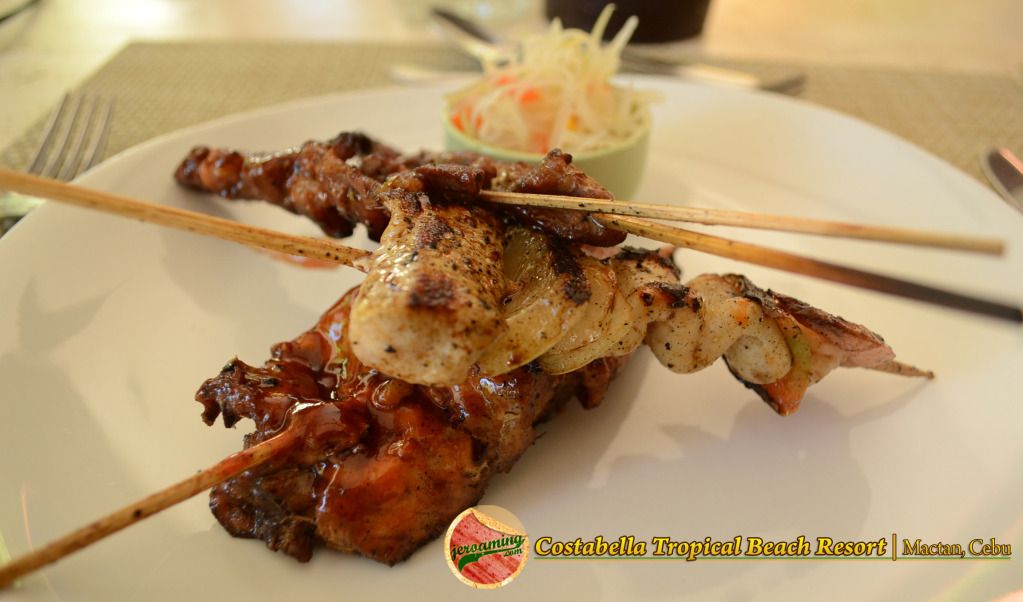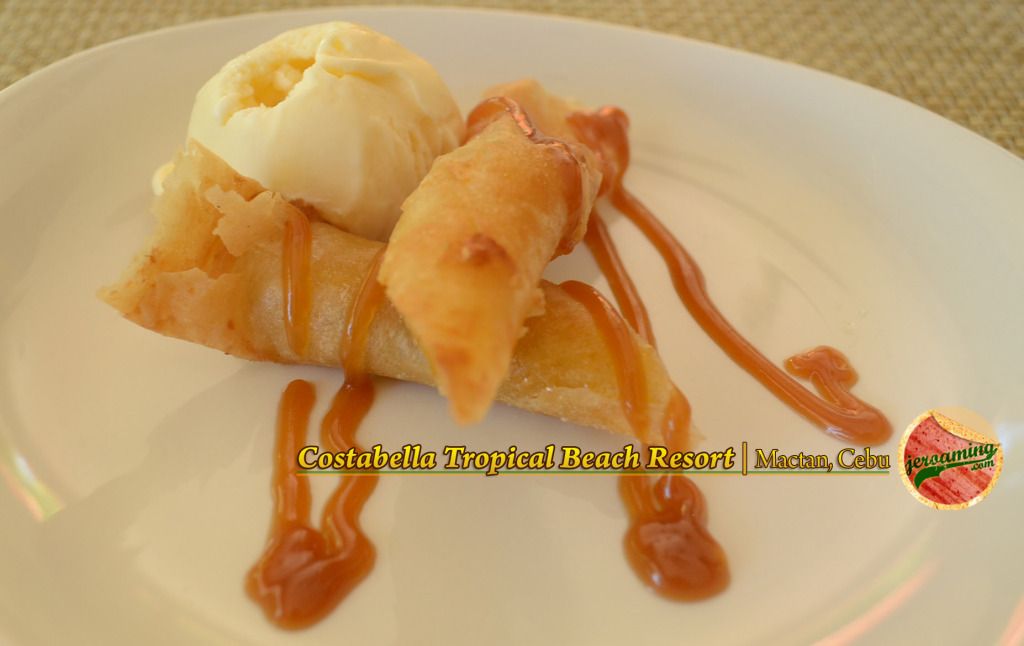 I walked around the resort to see the entire facilities and while checking everything this light fixture below caught my attention. I`m not sure why but I find it spectacular and eye catching so I'm sharing it.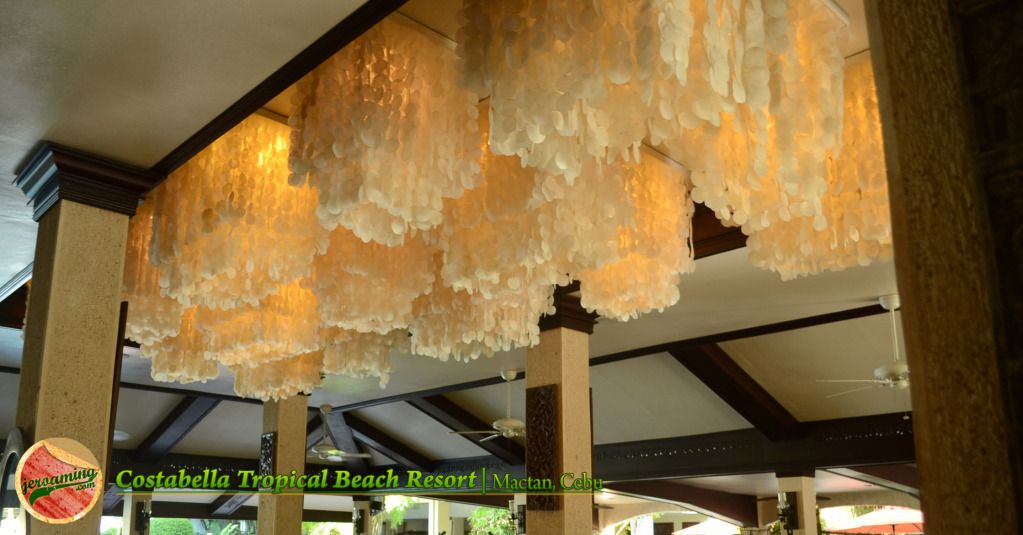 Siesta time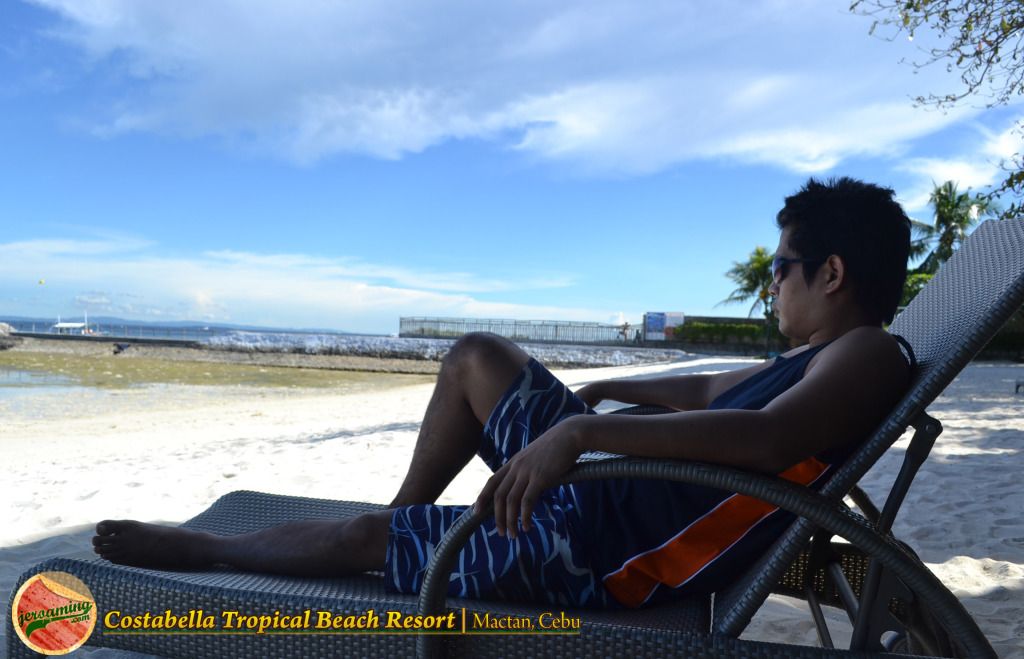 After dozing under the umbrella tree, we dipped again in the pool and enjoyed the moment. I so love the serene and relaxing ambience of the resort. Too bad we have to move and leave the resort around 4pm for an early dinner before going to the airport.
Other Notes
1. No need for reservations for day trips (day tour) not unless the whole resort is rented for an event or it is peak season. For more details check our Costabella's website by clicking this link. www.costabellaresort.com
2. Lunch Buffet is available every Sunday with no additional charge.
3. Starfish &small stingless jellyfish can be found on the beach.
4. There's an additional Php50 on top of the fare for on call taxis picking guest from Costabella resort.
Related posts: